Forberg® Rotating Mixer
The Forberg® Rotating Mixer (RM) combines the excellent mixing ability of the standard Forberg® Batch Mixer with the unique principle where the product can be loaded and discharged through the same product valve. Within seconds, the whole machine is tilted from its filling position to its discharging position. The Forberg® RM is specially developed for mixing of granular products, pellets, muesli and porous products. It handles the product very gently and generates practically no fines in the process.
The main and unique advantage of rotating mixers over standard stationary mixers is the ability to install an automated Cleaning in Place (CIP) system. Other practical, operational benefits include removed discharge doors – no particle breakage, closed system and always perfectly mixed.
The fully automatic CIP system is very convenient to operate for processes with zero-tolerance for cross contamination between different recipes or where hygiene is of upmost importance. The automated CIP system will save many hours of manual labor. Push the button, and during a 30 minutes lunch break, the machine is clean and ready for a new recipe.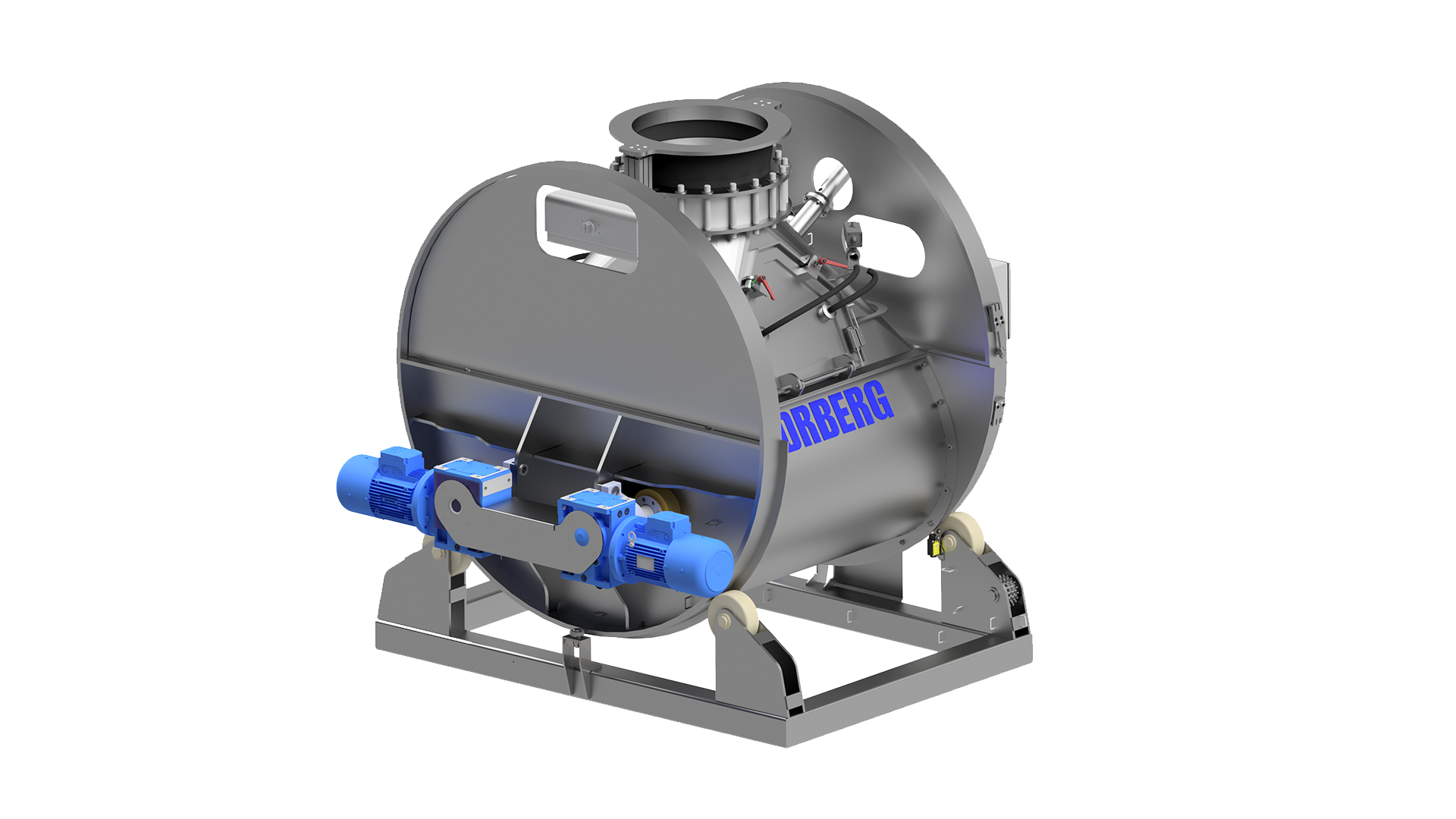 Features of the Forberg Twin Shaft Paddle Mixer:
– Nominal capacity from 6L to 8000L
– Superb mixing results (CV of 3% or less)
– Addition of minor ingredients down to ratio 1:100 000
– No segregation regardless of size, shape, and density
– Short mixing time – High production capacity
– Perfect distribution of liquid components
– Gentle mixing
– Flexible filling levels
– Low energy consumption
– Minimal maintenance cost
– Bomb doors for quick and complete discharge
Fields of Application
| Food industry | Feed industry | Chemical industry |
| --- | --- | --- |
| Dairy powders | Medicated feed | Detergents |
| Flour/bakery mix | Mineral premixes | Color pigments |
| Frozen vegetables | Aqua/fish feed | Fertillizers |
| Instant coffee | Pet food | Explosives |
| Nutraceutical products | | Building materials |
Additional Equipment
| | | |
| --- | --- | --- |
| Binds and Hoppers | Lump Breaking | Product Sampling |
| Liquid Addition | Weighing System | Product Transport |
| Hygienic design | | |
Dimensions of the Forberg® Rotating Mixer
| Model type | Nominal volume (I) | Min Volume (I) | Max Volume (I) | POWER (kW) | Lenght (mm) | Width (mm) | Height (mm) | Weight (kg) |
| --- | --- | --- | --- | --- | --- | --- | --- | --- |
| F-6 | 6 | 2,4 | 8,4 | 0,37 | 987 | 510 | 1040 | 160 |
| F-20 | 20 | 8 | 28 | 1,1 | 1400 | 660 | 1170 | 250 |
| F-60 | 60 | 24 | 84 | 3 | 1300 | 1100 | 850 | 280 |
| F-120 | 120 | 48 | 168 | 4 | 1400 | 1300 | 1000 | 450 |
| F-200 | 200 | 80 | 280 | 4/5,5 | 1680 | 1460 | 1130 | 800 |
| F-350 | 350 | 140 | 490 | 5,5/7,5 | 1780 | 1580 | 1200 | 1150 |
| F-500 | 500 | 200 | 700 | 7,5/11 | 2010 | 1790 | 1400 | 1400 |
| F-750 | 750 | 300 | 1050 | 11/15/22 | 2180 | 1770 | 1720 | 2500 |
| F-1000 | 1000 | 400 | 1400 | 15/22/30 | 2500 | 1930 | 1820 | 3000 |
| F-1500 | 1500 | 600 | 2100 | 22/30/37 | 2750 | 2070 | 2050 | 3840 |
| F-2000 | 2000 | 800 | 2800 | 30/37/45 | 3200 | 2380 | 2200 | 5000 |
| F-2500 | 2500 | 1000 | 3500 | 30/37/45 | 3300 | 2500 | 2250 | 6000 |
| F-3600 | 3600 | 1440 | 5040 | 37/45/55 | 3600 | 2960 | 2500 | 8000 |
| F-5000 | 5000 | 2000 | 7000 | 45/55/75 | 3800 | 3100 | 2500 | 9500 |
| F-6000 | 6000 | 2400 | 8400 | 55/75/90 | 4100 | 3300 | 2500 | 12000 |
| F-8000 | 8000 | 3200 | 11200 | 75/90/110 | 4800 | 3600 | 2500 | 13000 |
Dimension drawings
Enquiry Sheet