Forberg® Heat Treatment System
Premium Layer's Mash Feed for Specific Pathogen Free Farms – SPF Farms
The Forberg Steam Heat Treatment System is used for production of premium feed for layers. Heat treatment of mash feed kills salmonella and significantly reduces bacterial spores. The final product is a high quality feed with a perfect structure for the layers. Research has proven better suitability of mash feed compared to pelleted and crumbled feed.
Coarsely ground grains, with an ideal structure for layers, are steamed in the Forberg® Mixer/Conditioner equipped with steam nozzles. While the components are mixed to perfect homogeneity and steam is injected, the Forberg® Mixer heats the product to the desired temperature above 86°C. The temperature is maintained over a certain period of time to kill salmonella and other pathogens.
After the heat treatment, the Forberg® Mixer discharges directly into a Forberg® Dryer/Cooler. In the Forberg® Dryer/Cooler, the moisture and temperature are brought back to the desired levels. The product is dried/cooled by blowing hot/cool air through the mechanically fluidized product. The reliable and repeatable process gives the same perfect quality product after each batch. After drying and cooling, heat sensitive components such as vitamins, enzymes, acids, flavor or pharmaceuticals can be added.
The mixture is now ready for packaging, bulk loading or intermediate storage.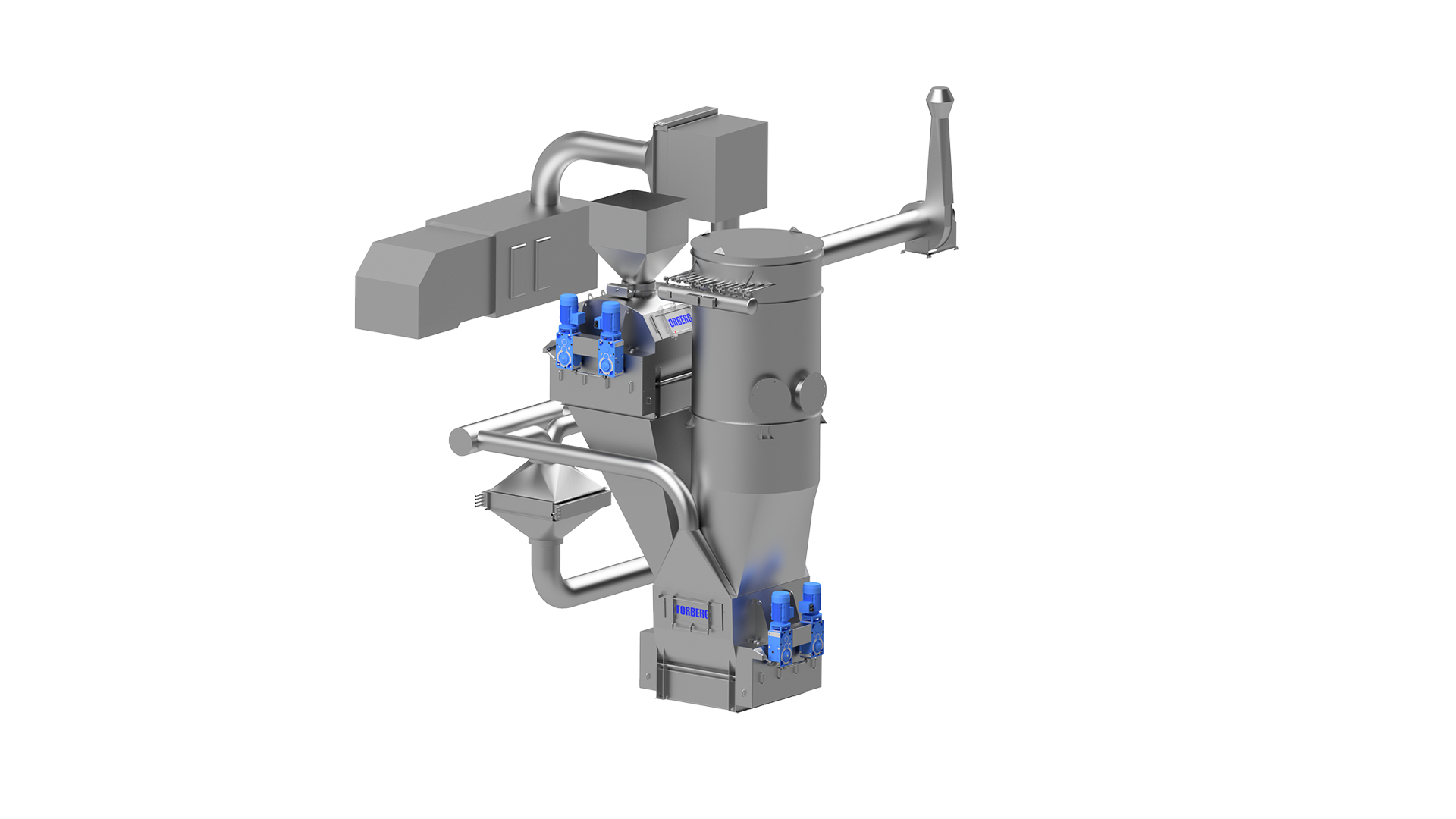 Advantages of heat-treated mash feed compared to traditional pelleting and crumbling:
A batch rather than continuous system to ensure every particle is heat treated
Designed as a compact, vertical system to avoid any product accumulation
Micro agglomeration of the feed binding smaller particles together
Higher inclusion level of fat & oil
Addition of vitamins and enzymes after the heat treatment
Better health, behavior and performance of the flocks
Birds need more time for feed intake, which is beneficial in terms of bird behavior
Energy efficient
Fields of Application
| Food industry | Feed industry | Chemical industry |
| --- | --- | --- |
| Dairy powders | Animal feed | Detergents |
| Flour/bakery mix | Minimal premixes | Color pigments |
| Frozen vegetables | Aqua/fish feed | Fertillizers |
| Instant coffee | Pet food | Explosives |
| Nutraceutical products | | Building materials |
Additional Equipment
| | | |
| --- | --- | --- |
| Binds and Hoppers | Hygienic design | Product Sampling |
| Liquid Addition | Weighing System | Product Transport |
Dimensions of the Forberg® Heat Treatment System
| Model type | Motor size (kW), mixer | Motor size (kW), dryer | Air flow (m3/h) | Fan motor (kW) | Filter area (m2) | Heating (kW) | Lenght (mm) | Width (mm) | Height (mm) |
| --- | --- | --- | --- | --- | --- | --- | --- | --- | --- |
| F-500-HT | 2 x 2,5 | 2 x 7,5 | 4800 | 5,5 | 60 | 210 | 3800 | 4300 | 4200 |
| FT-750-HT | 2 x 7,5 / 2 x 11 | 2 x 11 | 6300 | 7,5 | 80 | 275 | 4000 | 4400 | 4800 |
| FT-1000-HT | 2 x 11/2 x 15 | 2 x 15 | 9300 | 15 | 120 | 407 | 5800 | 4500 | 5300 |
| FT-1500-HT | 30-37 | 45 | 12400 | 22 | 160 | 540 | 8900 | 6100 | 6000 |
| FT-2000-HT | 37-45 | 75 | 15500 | 30 | 190 | 680 | 9600 | 6800 | 6900 |
| FT-2500-HT | 37-45 | 75 | 16500 | 30 | 210 | 720 | 11000 | 7200 | 7500 |
| FT-3600-HT | 45-55 | 90 | 24000 | 45 | 300 | 1050 | 13000 | 7600 | 7900 |
| FT-5000-HT | 55-75 | 110 | 27000 | 55 | 340 | 1180 | 15500 | 8100 | 8500 |
Dimension drawings
Enquiry Sheet