Forberg® Drying System
The Forberg Drying System is a very efficient machine, suitable for the drying of powder products, granulates and filter cakes. The system is based on the well-known Forberg Twin Shaft Mixing Technology.
The product is dried by blowing hot air through the mechanically fluidized product. The mechanical fluidization ensures that all product particles are surrounded by the drying medium (hot, warm, cold air, inert gas, etc.) and effective transmission of energy occurs. Consequently, moisture is extracted from the product. The reliable and repeatable process gives the same perfect quality product after each batch.
Various industrial processes such as mixing, drying, cooling, micro granulation and liquid addition can be done in the Forberg Drying System. This system is both FDA and EFSA approved. Forberg International provides solutions, which meet the economical, environmental and technological criteria of today.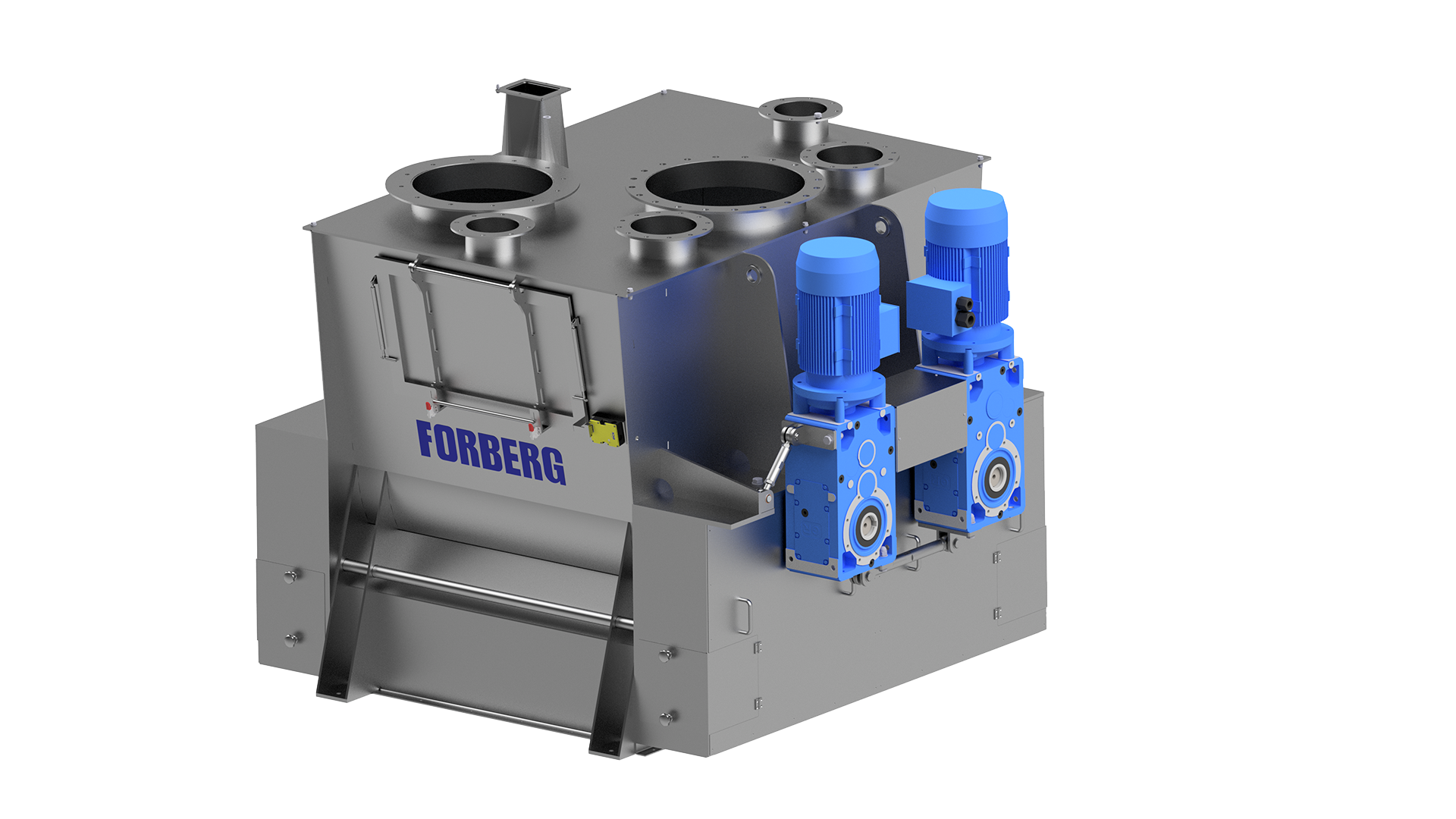 Advantages of the Forberg Twin Shaft Drying System:
High thermal efficiency. Less energy usage compared to other types of drying systems.
The process can be run in closed loop. Inert gas drying possible.
Can operate close to the products maximum temperature, increasing drying efficiency.
Universal machine, where multiple processes are possible in one process chamber.
The integrated mixing technology always ensures a homogeneous batch.
Fields of Application
| Food industry | Feed industry | Chemical industry | Granulation of Powders |
| --- | --- | --- | --- |
| Flour/bakery mix | Enzymes | Filter cakes | Chemicals powders |
| Spices | Additives | Agro chemicals | Feed powders |
| Instant coffee/tea | Mineral feed | Waste treatment | Food powders |
| Nutraceutical products | | Detergent Explosives | Metal powders |
Additional Equipment
| | | |
| --- | --- | --- |
| Binds and Hoppers | Lump Breaking | Product Sampling |
| Liquid Addition | Weighing System | Product Transport |
| Hygienic design | | |
Dimensions of the Forberg® Drying System
| Food industry | Motor size (kW) | Air flow (m3/h) | Fan motor (kW) | Filter area (m2) | Heating (kW) | Lenght (mm) | Width (mm) | Height (mm) |
| --- | --- | --- | --- | --- | --- | --- | --- | --- |
| FT-20 | 2,2 | 250 | 0,25 | 3 | 11 | 2000 | 700 | 2400 |
| FT-60 | 2 x 2,2 | 850 | 1,1 | 11 | 37 | 2900 | 2500 | 2300 |
| FT-120 | 2 x 3 | 1400 | 2,2 | 18 | 60 | 3400 | 2400 | 3300 |
| FT-200 | 2 x 4 | 2400 | 3 | 30 | 105 | 3600 | 3900 | 3500 |
| FT-350 | 2 x 5,5 | 3300 | 4 | 40 | 144 | 3600 | 4200 | 3900 |
| FT-500 | 2 x 7,5 | 4800 | 5,5 | 60 | 210 | 3800 | 4300 | 4200 |
| FT-750 | 2 x 11 | 6300 | 7,5 | 80 | 275 | 4000 | 4400 | 4800 |
| FT-1000 | 2 x 15 | 9300 | 15 | 120 | 407 | 5800 | 4500 | 5300 |
| FT-1500 | 45 | 12400 | 22 | 160 | 540 | 8900 | 6100 | 6000 |
| FT-2000 | 75 | 15500 | 30 | 190 | 680 | 9600 | 6800 | 6900 |
| FT-2500 | 75 | 16500 | 30 | 210 | 720 | 11000 | 7200 | 7500 |
| FT-3600 | 90 | 24000 | 45 | 300 | 1050 | 13000 | 7600 | 7900 |
| FT-5000 | 110 | 27000 | 55 | 340 | 1180 | 15500 | 8100 | 8500 |
Dimension drawings
Enquiry Sheet