Forberg® Continuous Mixer
The Forberg® Twin Shaft Paddle Continuous Mixer is designed for a continuous product flow when capacity, not precision is the main focus.
The Continuous Mixer has many of the same properties as the Forberg® Batch Mixer. It is very gentle with the products, has low energy consumption, high capacity, little space requirement, and flexible filling level. Throughput is a significant as the average retention time is approximately one minute.
For obtaining good mixing quality in a continuous mixer, an accurate feeding of the ingredients is demanded. Continuous mixers are suitable for mixing a limited number of components. One or two different liquids can be sprayed onto the product mixtures.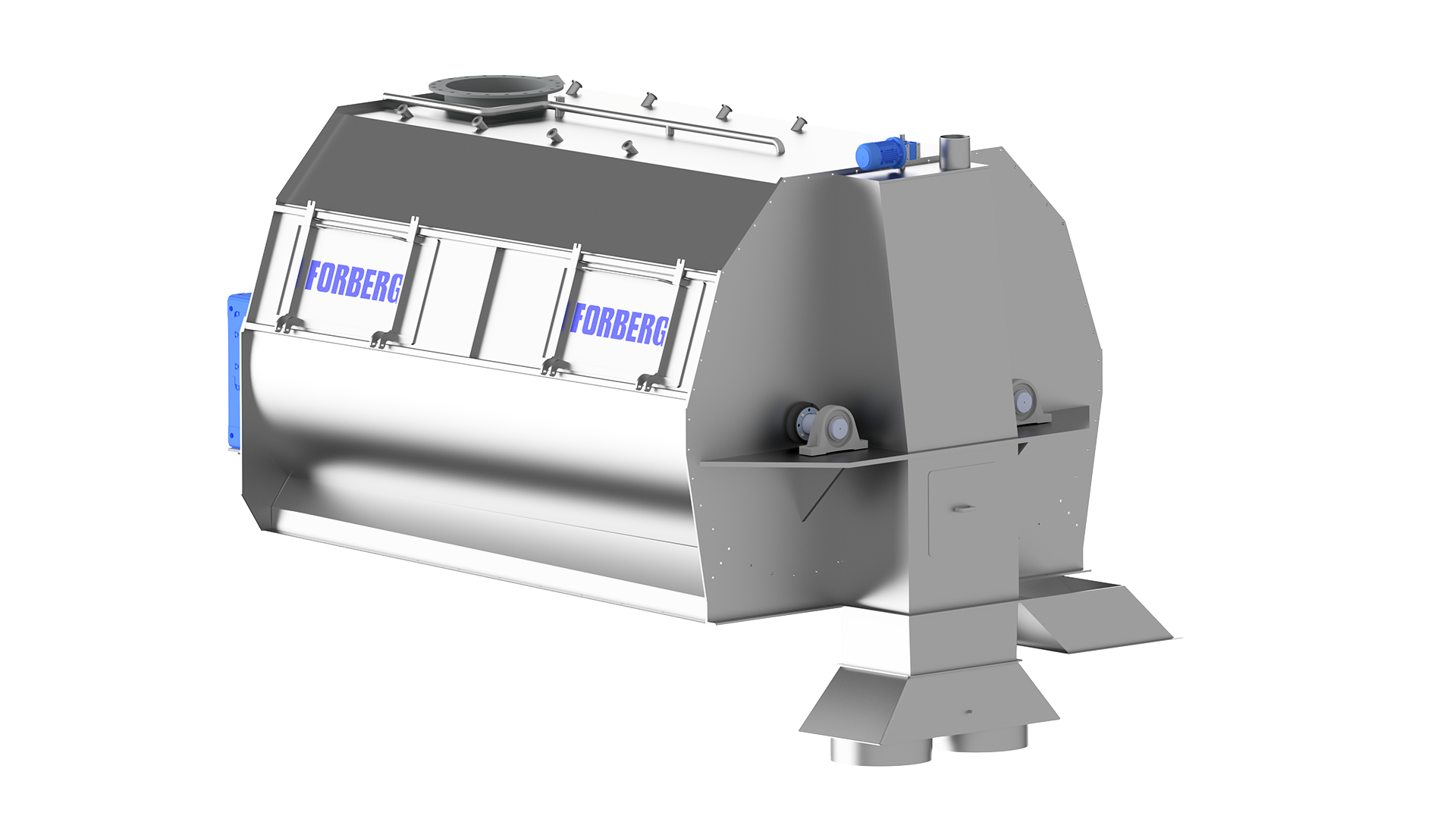 Features of the Forberg Twin Shaft Continuous Mixer:
Nominal production rate from 5 m3 to 300 m3 per hour
Efficient, gentle mixing
High production capacity
Small space requirement
Low energy consumption
Reliable operation with minimal maintenance cost
Fields of application:
For mixing large quantities, when capacity, not precision is the main focus. For example: fertilizers, grains, etc.
Fields of Application
Additional Equipment
| | | |
| --- | --- | --- |
| Binds and Hoppers | Lump Breaking | Product Sampling |
| Liquid Addition | Weighing System | Product Transport |
Dimensions of the Forberg® Continuous Mixer
| Model type | Capacity (m3/h) | POWER (kW) | Length (mm) | Width (mm) | Height (mm) | WEIGHT (kg) |
| --- | --- | --- | --- | --- | --- | --- |
| F-60-conti | 5 | 2 x 2 | 1250 | 770 | 810 | 350 |
| F-120-conti | 10 | 2 x 3 | 1620 | 940 | 1030 | 550 |
| F-200-conti | 15 | 2 x 4 | 2080 | 1090 | 1150 | 960 |
| F-350-conti | 30 | 2 x 5,5 | 2200 | 1340 | 1300 | 1380 |
| F-500-conti | 40 | 2 x 7,5 | 2550 | 1450 | 1380 | 1900 |
| F-750-conti | 60 | 2 x 11 | 2840 | 1640 | 1680 | 3400 |
| F-1000-conti | 90 | 2 x 15 | 3360 | 1810 | 1760 | 5000 |
| F-1500-conti | 125 | 45 | 3540 | 2070 | 2150 | 5400 |
| F-2000-conti | 170 | 55 | 4200 | 2295 | 2300 | 7200 |
| F-2500-conti | 210 | 75 | 4690 | 2430 | 2420 | 8400 |
| F-3600-conti | 300 | 75 | 5360 | 2810 | 2500 | 9600 |
Dimension drawings
Enquiry Sheet